Meaning of The Bridge  |  The Path  |  Initial Vision  |  Revised Vision  |  Reflection  |  Learning Goal  |  Long Term Goals  |  Conclusion  |  Epilogue
What does a bridge have to do with goals let alone a professional portfolio? One of the first reflection activities we undertook while attending the Foundations Institute (AE500) in the Master of Adult Education program at St. Francis Xavier University (STFX) was to look at the narrative of our life; to fully understand what brought us to STFX. Not just the events but the learning that came from those events; what made us the adult educators we have become.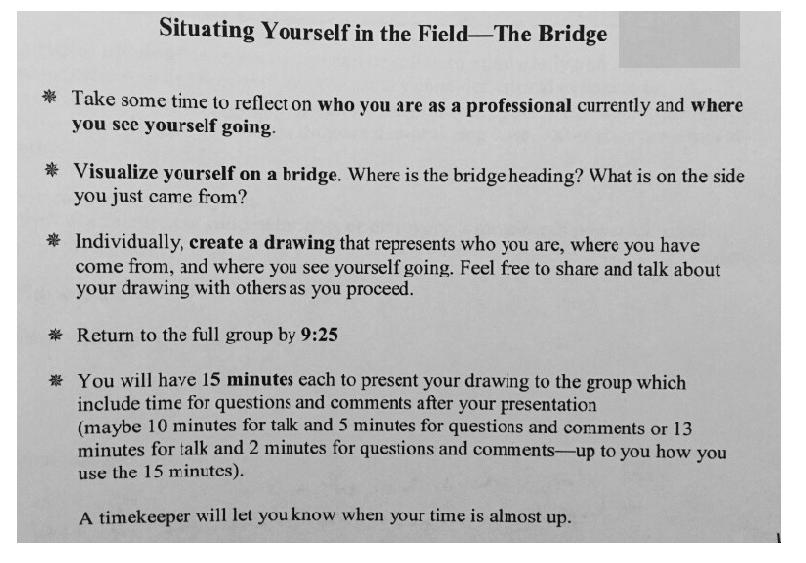 We were asked to draw a bridge; to create an image of the events that brought us to the bridge as well as possible futures on the other side; to describe where the bridge will take us. An image of what I drew can be found above. Of course, if you are not one of my peers in the program, or not an educator, you are probably asking yourself: really, this is a Master's program? My answer to that is in the narrative of my art, as crude as it is. It is not in the drawings themselves but in the meaning behind the drawings. The activity is designed with two objectives, to engage the right side of the brain and to engage in reflection.
---
The Path
Through this activity, I discovered how my experiences and entrepreneurial desires set me on the path towards being an educator. I capitalized on my paramedic experience and began teaching first aid as a sideline venture. Realizing that I had a natural talent, I excelled, quickly becoming an instructor trainer across all first aid disciplines. The combined paramedic, business and teaching experience brought me to a full time teaching and coordinating position as Program Director for a Primary Care Paramedic college program. This position afforded me one of the most beneficial opportunities in my career in that I had what can only be described as a private tutor mentoring me throughout the whole three years. Essentially, a full education as an adult educator while working (see Testimonials tab).
As you can see in my drawing, I was able to leverage all of this experience to enter senior management in paramedic services in the next stage of my career (see my Resume located under the KSAs tab). This recent history provided the opportunity to refine all of my skills; in management; standards; education; and working with the public. I was afforded the ability to complete a Bachelors degree during this period, which brings me to the bridges.
---
Initial Vision
My drawing depicts the bridge from the north shore to Manitoulin Island at Little Current. This is a single lane swing bridge, the only land connection to the Island and the only way on and off the Island for six months of the year. For me, this was a visual metaphor for my Master's program journey at STFX. The bridge (STFX) is the connection to my future. Originally I envisioned it as a path, a single lane, to travel alone, preparing me for the future. I saw the program as one that will focus all of my thoughts and experiences to be used to improve paramedic practice and quality of life (see the Research tab).
What I found, through reflections on my experience at the Foundations Institute at STFX is, although what I have said is true about where I am heading, the bridge I chose was not an accurate depiction of my Master's journey. 
---
Revised Vision
Upon completion of the Foundatons Institute, I drew a new bridge. The Garden City Skyway in St. Catharines, Ontario. The bridge is six lanes wide and 2.2 km long. There are many people on the same journey as me and it will be a long path with some curves. There is a lot of highway behind me and much in front. The challenge is high (40m tall) but not insurmountable, and it is well supported with a foundation made up of family and peers (piers) supporting me. It is well designed and suited for the purpose for my journey and to prepare me for what lies ahead.
---
Reflection
Each and every day I realize more fully the complexities of adult thinking, learning, and development through constant reflection on experience. There are many tools and techniques for reflection; for example, journaling, reflective portfolio design as you see here, and dialogue with others.
While attending the Foundations Institute at STFX, I had a self-revealing conversation with my Advisor, Dr. Carole Roy. My interest in paramedic stress resilience and what I have now come to understand, transformational learning, began after a major life event, also know as an epochal experience. I realized at that time this wasn't my first epochal experience related to stress and the paramedic profession but it was the one that changed my career path. My reflection is woven throughout this portfolio but it would suffice to say here that as I moved into the role of an adult educator, I had a special interest in stress, critical thinking and transformation.
With this special interest, and as I began teaching new paramedics, I felt it important that I help candidate paramedics to better understand how to mitigate stress reactions. I embarked on a personal self-study that has continued since 2005 and often considered pursuing post graduate education within the discipline since graduating university in 2009. In the afore mentioned conversation with Dr. Roy, I discovered that although I had a desire to further my studies, the time wasn't right, until now. Desire does not equal motivation. Thought does not equal action. I needed to grow and understand more fully; stresses, my reactions to stress and more importantly how I recovered; and I needed to build a solid foundation of knowledge in adult education. It is only now that I feel fully prepared to embark on this journey. It is only now that I have been able to develop a learning goal and a research question.
---
Learning Goal
My overall learning goal is to understand more fully how critical thinking and critical reflection fosters transformational learning experiences. The underlying question, is can I, or any individual, learn and apply critical reflection strategies to all experiences thus becoming a transformational learner fostering our own changes of perspectives? How does critical thinking and critical reflection enhance the ability to deal with transitions in the workplace, associated stresses, complex crises and occupational stress in general? Does critical thinking contribute to being pro-active rather than reactive in combating stress?
---
Long Term Goals
My long term goals are twofold. The first is to better situate myself for the last stages of my career where my combined expertise in management, business, and education, can be used in senior management positions and Provincial committees; to provide employment through to my retirement years as a resource, sharing a lifetime of experience. Secondly, to advance my understanding of adult education and development through study and research, while contributing to the improvement of first responder wellbeing. 
---
Conclusion
What does a bridge have to do with a professional portfolio and a Master's program? Everything when it is part of an individual's narrative, a visual metaphor of a piece of a person's life. It describes where I am in my life, my education and my career. The activity brings perspective to past experience and a fuller understanding of the learnings of life, and how those learnings defined the path or highway being travelled. It also can provide clarity for possible future directions.
---
Epilogue
As a result of completing this reflective portfolio, I have come to a better understanding of myself and how my experience has influenced my learning and practice. Professionally, I have been able to identify a diversified career that has influenced my personal attitudes. My attitudes summarize who the experience; who the knowledge and skills have created. Life's experience has been my schooling; my learning. My time as a manager has influenced my abilities as an educator and vice versa. 
As an educator, my philosophies are both complementary and at odds with each other. This is also reflected in the paradigm of management. In a labour/management environment, where unions and collective agreements exist, the behavioural philosophy will have a great influence as many managerial actions are governed by contractual obligations. In a sense, we manage a union. What is at odds is the union is made up of people. People with life-experience, who work collaboratively or can be self-directed. People who need guiding, coaching and mentoring.
The required managerial skill that only comes from experience is the ability to balance beliefs, values, assumptions and attitudes, and apply philosophies as each individual situation arrises. There are times when strict adherence to contractual obligations is required, such as in a situation of overt noncompliance, and there are times where there should be the positive influence of guiding, coaching and mentoring, to improve an employee's skill and performance, such as in a situation where actions were unintentional or due to a lack of knowledge or experience.
My filtering lens that is used to compare current situations in the workplace with past experience directly affects my practice and attitudes as a manager. It will affect how I interact with people and inform strategies. Knowing and understanding my personal philosophies enhances congruence between my beliefs/values and actions (Zinn, 2007) and enhances my ability to manage.
Through my experiences as an adult educator, I came to a better understanding how adults think and learn, both of which are an asset when managing people. Managing is about communicating, understanding, and providing direction for those we serve, skills honed in a facilitator's environment. I learned that there are many areas where the lines between adult education and development and cognitive psychology are blurred and how much critical teaching and critical thinking can influence the development of an individual and the performance of an employee. Being a manager has afforded me with the ability to better identify the needs of an individual to be successful in their role, a skill that transfers back to being an educator, designing learning that is applicable and relevant to the learner.
Finally, self reflection can create an uncomfortable clarity. Self reflection of past experience can inform learning from experience, but it can also cause evaluation of current circumstances and future direction. In the words of some of my peers in the Master's of Adult Education program (not identified to protect their privacy): "it's doing something to all of us"; "[there is] a cost of transformation"; "this isn't easy"; and my own words "I came with the intent to experience change, I just didn't realize how much". I am left with questions of satisfaction of where I am and the direction I am going. What is at the other side of the bridge? Only by traveling the bridge and continual reflection will there be clarity, a more accurate frame of reference or greater self-awareness, hopefully without the associated uncomfortable anxiety but with an increase of self-confidence.
In closing, what does a sailboat and "Wannabe explorer of the seven seas" have to do with a professional portfolio? It is a representation of work/life balance.  It represents my sense of adventure, my desire to enjoy life, the importance of relaxation and family time, and opportunity to experience the excitement of sailing and a little recreational competition. My portfolio is all about work and professional practice, and although sailing is only mentioned in passing, that should not minimize the importance of time for self and family, not only to balance life and work, but also to manage stress, demonstrating one resilience strategy which speaks directly to my research (see research tab).
---
NEMI. (2017 May 2). Swing Bridge.  [Photo] Embedded from http://www.townofnemi.on.ca/places/swing-bridge/
The St. Catharines Standard.  (2017 May 2). Crash on Garden City Skyway-update. [Photo] Embedded from http://www.stcatharinesstandard.ca/2012/10/31/crash-on-garden-city-skyway
Zinn, L. (1983). Philosophy of adult education. Quincy, IL: Lifelong Learning Options